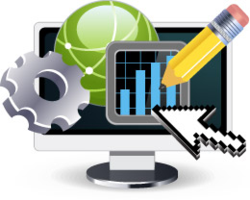 Webhosting.net delivers a one-stop-shop for Web design and development. Customers can revamp a current Web site; attract new business or create a new site with the Web Design Package. The Web Design Package provides a myriad of Web services that can be customized according to company needs. It also helps eliminate issues of security that occur when multiple Web service providers have access to confidential company accounts.
The Web Design Package offers Web Design and Development. A team of seasoned designers will design Web sites along with reinforcing brand initiatives through print and Web campaigns. There are multiple customized Web plans to choose from that are functional and will display through the Web, smart phones and tablets. The technology development team customizes powerful application framework and creates sophisticated add-ons that will enhance performance.
The Web Design Package includes Internet Marketing to help increase business awareness and online traffic. Helping companies use search engine marketing (SEM) to track and analyze traffic.
As an industry leader Webhositng.net assists companies with their hosting needs. The array of offerings are created to work alone or together to provide the best solid solution. Webhosting.net offers a complete Web Design Package for a fixed monthly fee. This approach eliminates the cost associated with hosting services in-house such as the price of software licenses, servers, maintenance and support.
About Webhosting.net
Established in 1998, Webhosting.net is a pioneer, leading the industry with years of excellence. We deliver reliable, scalable and secure web hosting solutions to individuals and businesses of all sizes. Our confidence is in our solid network reliability, innovative technology and exceptional around-the-clock customer service; our success is measured in our satisfied customers. To find out more